Meetings
Meet Us At The DeSoto

Meeting & Event Spaces In Savannah

Inspired by the charm and energy of Savannah's Historic District, The DeSoto's 20,000 square feet of newly renovated event space blends classic elegance and modern hospitality with magnificent skyline views. Our singular spaces include a grand ballroom, 11 breakout rooms, and Madison Square itself. 
Amenities
20,000 square feet of indoor & outdoor event space
Complimentary Wi-Fi
Exceptional on-site and off-site catering
A Sotherly Host to welcome your guests
Room blocks for your out-of-town guests

Sotherly Hotels is proud to announce our brand initiative, SoClean, setting the standards for safety and satisfaction on every guest stay. Every meeting attendee deserves the utmost care, therefore we are proud to SUM up our actions as follows:
Cleaning & Sanitizing
Catering & Banquets
Physical Distancing
Meeting Attendee Considerations
For more detail on our SoClean program, click here.
Capacity Chart
Numbers reflected below represent max set/safe distancing set for our spaces, current max setting for safe distancing guidelines is 10 guests per 300 sq. ft.
View Floorplan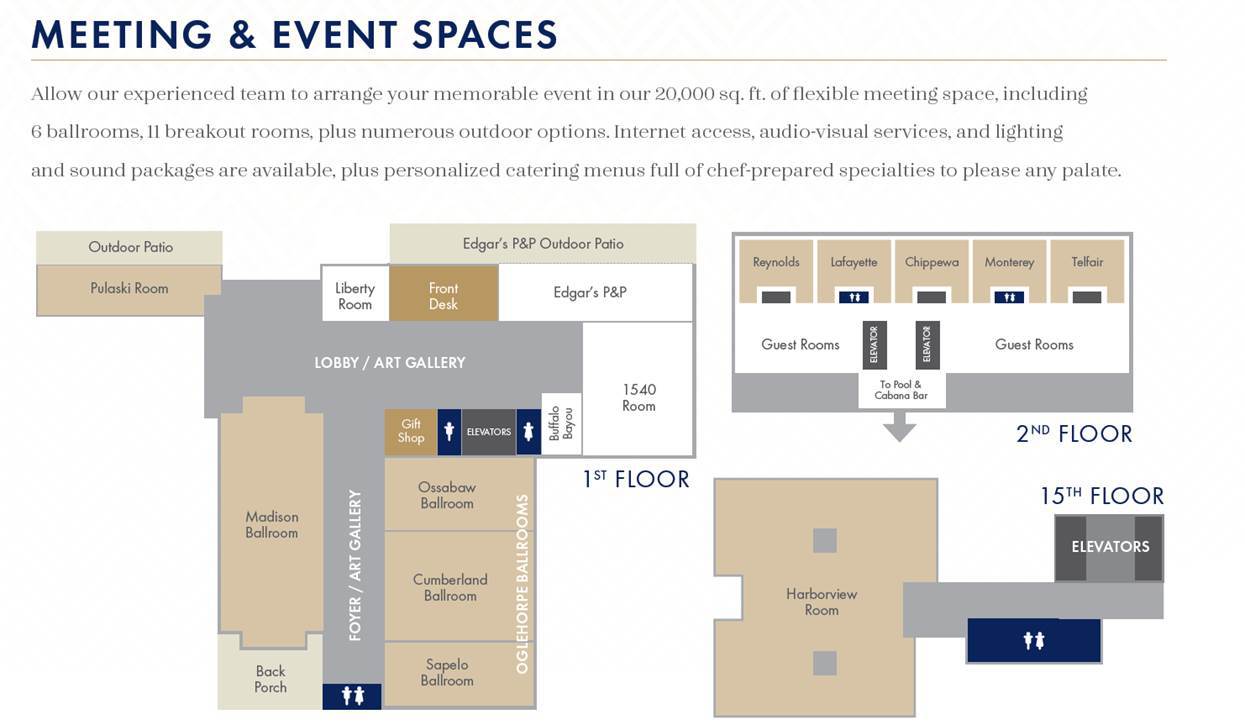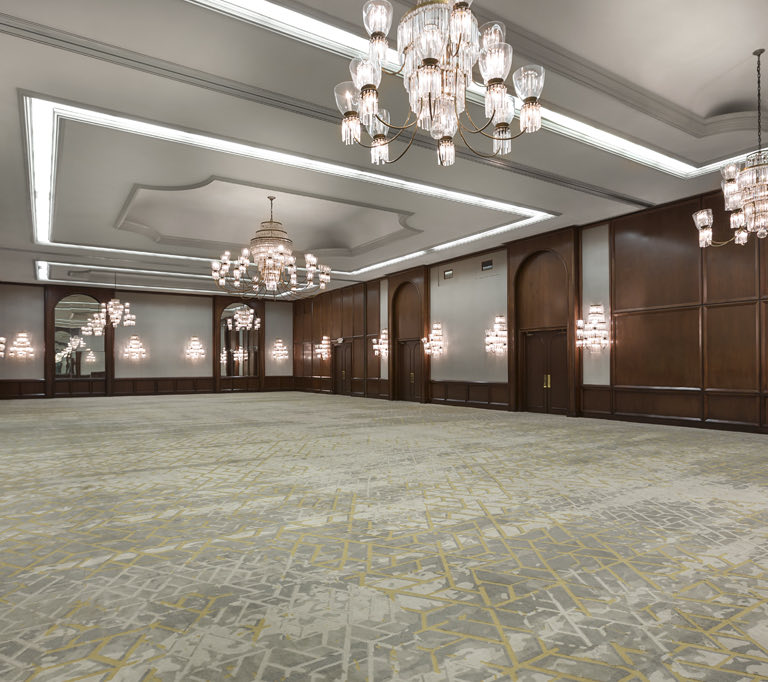 Oglethorpe Ballroom
5,408 Sqft | 850 Guests
Sparkling chandeliers and mahogany wood accents set the scene for timeless events in our Oglethorpe Ballroom. Featuring 5,408 square feet of beautiful space for receptions and formal banquets, our Oglethorpe Ballroom can be divided into three separate reception rooms or used together.
Harborview Room
2,601 Sqft | 150 Guests
Sweeping panoramic views of the picturesque Savannah Historic District from the 15th floor dominate the spacious Harborview Room. This light-filled space is an impressive venue for celebrations of every kind.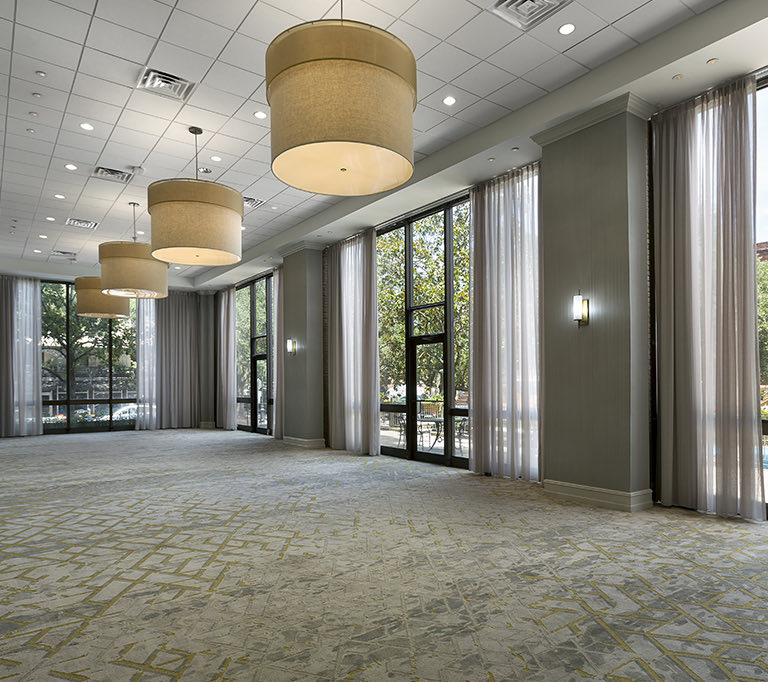 Pulaski

Room

1,768 Sqft | 200 Guests

The Pulaski Room features stunning floor-to-ceiling windows, blackouts for audio-visual presentations and a charming veranda with ironwork seating for grand networking events and cocktail parties.
Madison

Ballroom

4,000 Sqft | 500 Guests

Beautifully lit and elegantly appointed, the 4000-square-foot Madison Ballroom offers an exquisite venue for business receptions, fundraisers, and holiday festivities.
2nd Floor

Meeting Suites

416 Sqft | 40 Guests

Ideal for small meetings and breakout sessions, our five Second Floor Meeting Suites measure 416 square feet and accommodate up to 40 guests, theater-style.
Room Blocks
Our historic setting and contemporary amenities create the perfect blend of luxe comfort and homespun Savannah charm for your group. Whether you're planning a conference, wedding, or long-awaited family reunion, The DeSoto offers attractively priced group room blocks in the heart of Savannah's Historic District.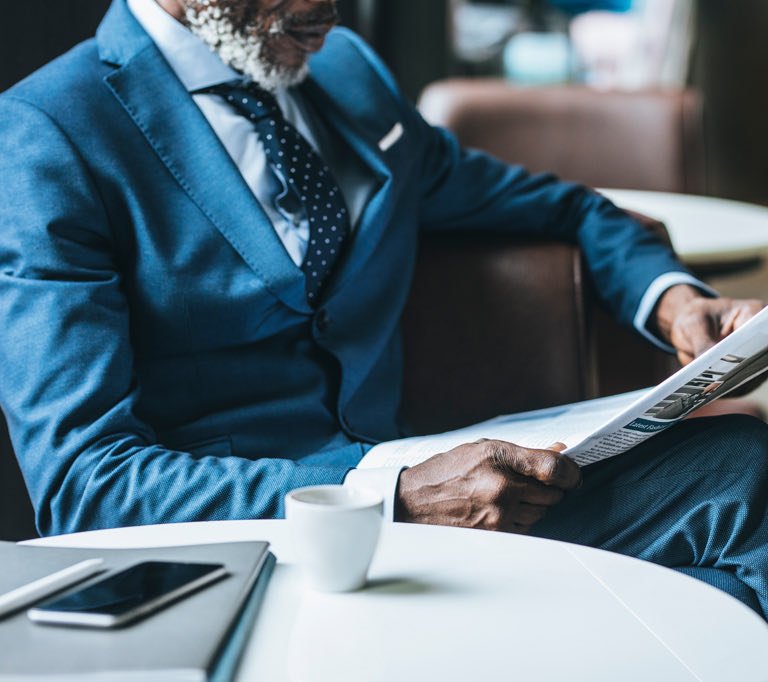 Business Travel
Located in the heart of the downtown business district and convenient to mid-town businesses, The DeSoto is the perfect spot for work trips. Start the day with a quick "to go" breakfast from Buffalo Bayou or enjoy a business breakfast or lunch at Proof & Provision. Our spacious meeting areas feature small conference rooms and on-site audio-visual support.