Brides Love Everything
Savannah
Request for Proposal
Tell us a few things about you:
DeSoto Weddings

100 Years of Southern Tradition

It's hard to imagine a more perfect marriage of historic Southern charm and contemporary luxury than The DeSoto. Anchoring Savannah's celebrated Historic District, our hotel puts you in the heart of one of the most beautiful and romantic cities in the world. Cobblestone streets, manicured gardens, and ancient oak trees draped with Spanish moss create an unparalleled backdrop for weddings and bridal events.

Your well-being is the top priority so we are operating at the highest standards for hygiene and cleanliness. Click here to learn more about the details of our SoClean program.
All The Essential Amenities
Professional Event Planning

 

& access to Savannah's bridal vendors
Full catering

 

in-house and off-site
Specially priced room blocks

 

for your out-of-town guests
Exquisite event spaces

 

on-site and in Savannah's historic squares
Wedding Packages

 

featuring complimentary cocktail hour and champagne toast
3 Reasons Why
Brides Love The DeSoto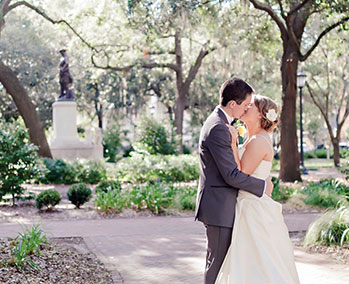 I
Our timeless setting is framed by Spanish moss and Southern history. As one of America's oldest cities, Savannah sparkles with old-world romance. It's felt along our cobblestone streets, in our historic squares and the soaring branches of our live oaks.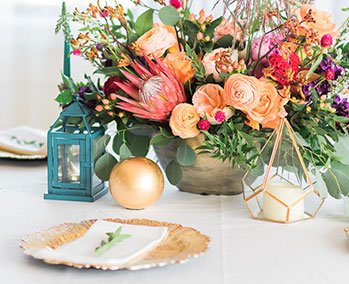 II
Our custom wedding day menus are all about modern Southern flavors. Georgia -grown ingredients play a starring role in our menus. Rest assured, your wedding will be remembered as much for its sweet peaches & toasted pecans as it is for its priceless setting.
III
The DeSoto still reigns as "Savannah's Hotel." For more than a century, The DeSoto has reigned as the center of Savannah's social life—a place both festive and flawless, where gracious hospitality anchors every interaction.
Singular Savannah Settings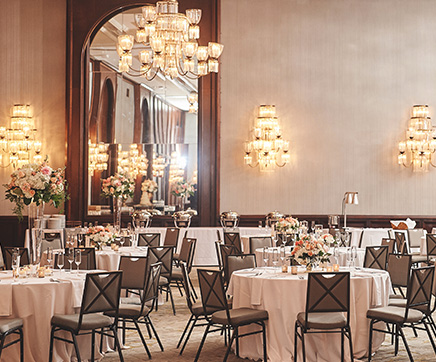 Oglethorpe Ballroom
Square Feet 5,408 | Capacity 550
Grand crystal chandeliers, high ceilings and mahogany wood accents evoke elegant southern charm in our Oglethorpe Ballroom. Host your pre-reception in the foyer, then share joyous wedding moments at a luxurious banquet in this ballroom for up to 550 guests.
Madison Ballroom
Square Feet 4,000 | Capacity 300
Our Madison Ballroom combines stylish, contemporary design and high ceilings with easy access to Savannah's historic Madison Square just across the way.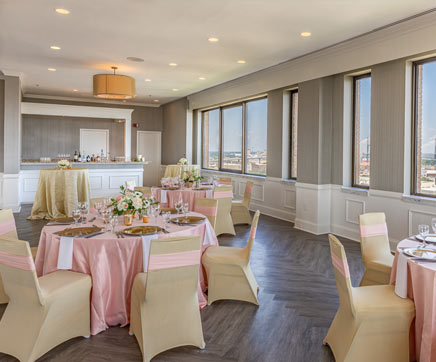 Harborview
Square Feet 2,601 | Capacity 150
Featuring the highest panoramic view of Savannah from the 15th floor, our magnificent Harborview Room features a built-in granite bar and offers a contemporary intimate setting on a private floor for up to 150 guests.
PERFECT FOR WEDDINGS, RECEPTIONS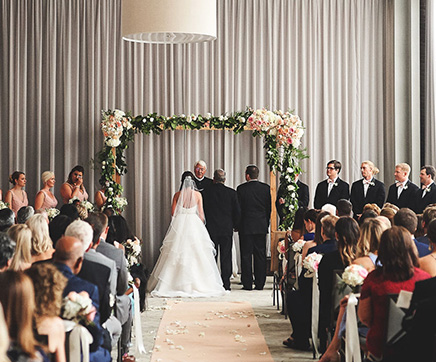 Pulaski Room
Square Feet 1,768 | Capacity 130
Soaring floor-to-ceiling windows and a private outdoor terrace with wrought-iron seating are highlights of our charming and intimate Pulaski Room.
PERFECT FOR SMALL WEDDINGS
RAVES FROM REAL BRIDES
I just wanted to say thank you for everything! Your team is the best! Everything was perfect! Everyone has raved about the food and service. By far the best hotel in Savannah!
Raves From Real Brides
We had both our rehearsal dinner and reception at The DeSoto. Our ceremony was at the Cathedral of St. John the Baptist, and we had a large number of out-of-town guests. We received a ton of comments from guests about how much they enjoyed the convenience of having everything so close.
Raves From Real Brides
I had my reception at The DeSoto, and it was wonderful! The cocktail hour was downstairs in the Pulaski Room, which has floor to ceiling windows and an outdoor patio. My guests could choose to sit inside and mingle or outside and enjoy the beautiful weather and take in the sights! Our reception was upstairs in the 15th floor Harborview Room, which has a panoramic view of Downtown Savannah. It was simply amazing, and my guests couldn't stop talking about the view!
Catered to Perfection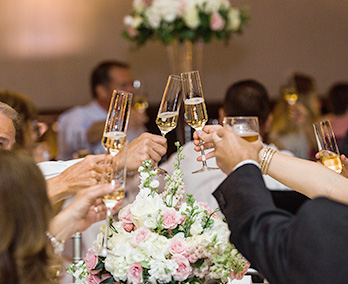 Chippewa Package
Includes four-hour house brand bar package and choice of plated, buffet-style or reception-style dinner service as listed under the Chippewa Package on the banquet menu.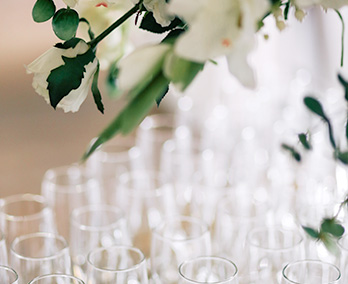 Ellis Package
Includes four-hour premium brand bar package and choice of plated, buffet-style or reception-style dinner service as listed under the Ellis Package on the banquet menu.
Forsyth Package
Includes four-hour super-premium brand bar package and choice of plated, buffet-style or reception-style dinner service as listed under the Forsyth Package on the banquet menu.
Answers to our Most Asked Questions
Am I able to bring-in my own vendors?
Absolutely, please let us know the people/companies you would like to work with for coordination purposes. We would be more than happy to connect you with industry leaders, if you need assistance in procuring specific services.
Request for Proposal
Tell us a few things about you: